How Do You Sign Up For Sim-Net?

Sim-Net now offers a 30 day
FREE TRIAL MEMBERSHIP!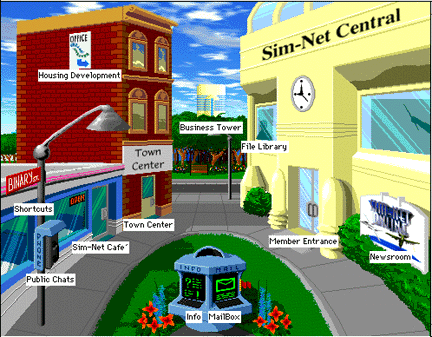 Play games, make friends and experience what the friendly atmosphere of a private "Virtual Community" is like. To request a 30 day guest account, please send us a short note stating the following:
Your Name
Your eMail Address
Your Address (include Country)
Your User ID (Maximum of 8 Characters--This is the NAME or Callsign that you want other people to see you as when using Sim-Net i.e., Batman, Deadmeat, etc.)
Your Computer Type (Macintosh or PC)
---
You will receive a return email within 48 hours listing your new Sim-Net account information. It will include your user ID and Password for accessing Sim-Net Online Services. If you decide to become a contributing member of our community you can send in your confidential registration via Sim-Net email at any time (Annual Memberships are currently $75 per year for the first 2500 Charter Members). If we do not hear from you within the term of your guest membership, your account will automaticallly terminate after 30 days.
---
Here's what you will need after you receive your GUEST ID and PASSWORD:
Any Macintosh or PC Compatable Computer


You will need the following software after you receive your guest login and password. Please allow 12-48 hours for this. You may want to download these files now.

Note:Members with Open Transport can now play games on Sim-Net.

The Connection Software listed below is for connecting to the Sim-Net Chat/File Server AND the necessary software for playing games over the Sim-Net Servers. Please download the files that are appropriate for YOUR computer system: (click HERE for information on how to connect to Sim-Net to play games):

PC Files:
Sim-Net software- site #1: Includes FC Client, Sim-Net v3.0, Kali95/Kalippp (50 min)



Macintosh Files:
Sim-Net software- site #1:Sim-Net FirstClass Client Software and Settings File (30 min)
Sim-Net software- site #2:Sim-Net FirstClass Client Software and Settings File (30 min)
IPRemote Software (For Non-Open Transport Systems. Place in System Extensions-1 Min)
IPRemote Software (For Open Transport Systems. Place in System Extensions-1 Min)

---

A modem (14.4 bps minimum -28.8 will work far better and is HIGHLY recommended for best performance while playing interactive games)

An Internet Account (PPP or SLIP)

Any games you wish you play on the Kali/ARNS Game Servers. Please see the Sim-Net Approved List of Games on the "What is Sim-Net" web page. NOTE: Some games are direct TCP/IP games that do not require a server. You can set up the games in the Sim-net game chat rooms!!

How to make your connection to the Sim-Net Chat and File Server
Once you have Sim-Net FirstClass Client and Settings File Installed on your system, you will need to connect to your internet provider.


---
NOTE: Using internet connections on AOL®, Prodigy®, or other Bulletin Boards MAY NOT work(PC Users can now connect using Windows 95 and the latest release of AOL).
---
Configuring FirstClass For Windows...
Unzip the program "SIMNET22.ZIP" and FCCWIN310.
Install the FCWIN Setup and open the FirstClass Client Application.
Using the FILE MENU find the Simnet22.fc settings file and open it.
Type in your GUEST USER ID and PASSWORD, then click the login button (Note:you must be already connected to the internet)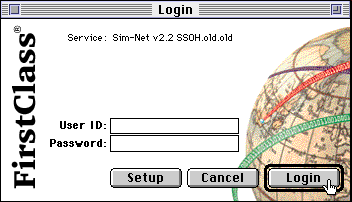 ---
Configuring FirstClass For Macintosh...
Double-Click on the snguest3.0 .sea.hqx program file. This file is a self-expanding archive that will produce a regular folder on your desktop called snguest3.0.
Double-Click on the Sim-Net Guest Settings Folder (snguest3.0 )...and OPEN the Simnet3.0guest Icon.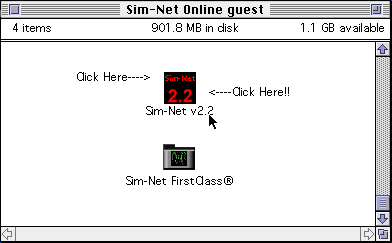 Type in your GUEST USER ID and PASSWORD, then click the login button (Note:you must be already connected to the internet)