What is Sim-Net?

Sim-Net is more than an online service. Sim-Net is a "Virtual Community" that allows its members to connect through the INTERNET to play interactive games, chat with others, get new files for their computer, and much more. As a member, you can use the Sim-Net file server, chat rooms, and playing arena's to obtain Macintosh AND PC software and information, meet new people, and do battle against live human opponents 24 hours-a-day!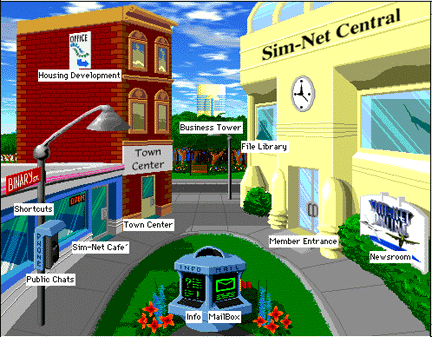 Both men and women can create their own forums and file areas that interest them (certain restrictions apply- See the Sim-Net Apartment Complex and make a virtual "home"for yourself!). Businesses can open a "Virtual Store", post advertisements, communicate with your employees and clients. Hold on-line meetings!
Members can play off-the-shelf interactive games 24 hours-a-day in an environment created especially for their interests.
As a Sim-Net Member you can...
Connect and access a growing FILE SERVER with tons of useful software and information for YOUR computer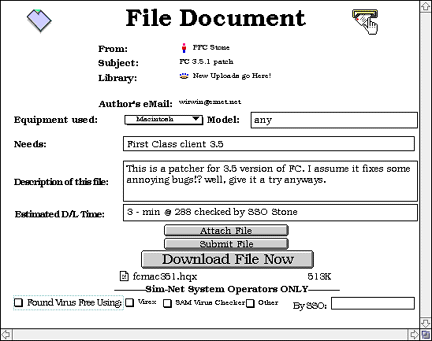 Meet people and MAKE FRIENDS in a variety of CHAT ROOMS on topics from news of the day to love interests

Play your favorite INTERACTIVE GAMES against LIVE opponents.
Please note: YOU must OWN any game that you wish to network over Sim-Net. These games are generally available from mail order businesses and your local software retailer. LOOK for the Sim-Net Approved Label!!
These games have earned the
Sim-Net Seal of Approval
Macintosh Games:
F/A-18 Hornet
Chuck Yeager's Air Combat
PowerPOKER
Links Pro Golf
Command & Conquer
GameMaster Chess
DESCENT I and II
BOLO
Monopoly
Mech Warrior (Net Mech)
WWII SkyFighters
A-10 Cuba (Limited to users in California)
Warcraft I and II
PC Games:
Top Gun

Virtual Karts

Apache

Descent I and II

ATF

EF2000

Command & Conquer

MechWarrior 2

Monopoly

Hexen

WitchHaven

Warcraft I and II

Virtual Pool

Duke3D


POST MESSAGES and ADVERTISE your services or products Complete everyday BUSINESS and conduct ON-LINE PRIVATE CONFERENCES with employees and/or clients from all over the world!

Sim-Net does NOT Charge hourly rates for server access...so you can chat, post messages, upload and download files, and play games for hours on end...for ONE LOW FLAT RATE per YEAR!
---