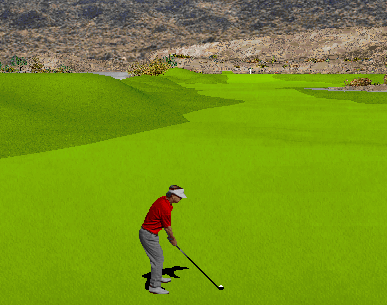 Game Description:
Play golf anytime of the day or night on your own Macintosh computer.
Play on world-famous Harbour Town Golf Links. The entire course is painstakingly reproduced in every detail.
Play golf on some of the world's greatest golf courses with LINKS Championship Course add-ons.
Nine different viewing windows, over 345 different combinations Course statistics help you play the course with greater effectiveness.
"Saved Shot" feature allows you to replay your best shots later.
Realistic sounds of birds chirping, buddies razzing you on a bad shot,kudos on a good one, etc.
Male and female golfers, with ten different shirt colors to choose from Spectacular texturing of fairways, rough, sand, and water!
Play golf with voice recognition if you have A/V capability. Select your clubs and shot type (draw, fade, chip, etc.) all with the ease of voice commands.
Play across a network or modem. If you are connected to an Appletalk-based network, you can play up to seven other players--through a modem or locally.
Record your game and play against yourself later or against other "LINKSTERS".
Includes native Power PC code but will also work on other Macs
Requires:
13" (or larger), 256 color monitor (will run on laptops if the laptop displays in 640X480 resolution with 256 colors)
4 MB of RAM (8 recommended)
System 6.07 or higher
4 MB of free hard disk space
---
Networkability:

This game offers networking using Appletalk protocol. This can be accomplished in a local area network, Apple Remote Access and IPRemote (via Internet connection).

Local Area Network- There are many different courses for Links Pro Golf. 8 golfers per course/game.

IPRemote Network- There are many different courses for Links Pro Golf. 4 golfers per course/game. More people can play (up to 8) however the connection is unreliable over the internet and we recommend a MAXIMUM of 4 players in one game!

Cross Platform- This game will not play against the PC versions of Links.
---
Rules of Play on Sim-Net Network:
Links Pro Tournaments are announced in advance and golfers are presented with the date and time for the first tournament match.
Golfers are expected to be online and rady to play at the time and date announced. Failure to report on time may cayse elimination from a match. One course is selected for a round and the winners of that game go on to play the winners from other matches. The final winner is decided upon thru a process of single elimination. Mulligans are NOT allowed for tournament play OR challenge matches.
---
Setting up a Network Game:
Once you have found an opponent in the Sim-Net chat rooms AND connected to the Sim-Net IPRemote Server, start your Links Pro game. Be sure to decide on WHICH player is GOING to be HOSTING and which player is going to JOIN!
When the game has started, use the FILE menu and select START NETWORK GAME (or JOIN Network game) as decided on prior to the game.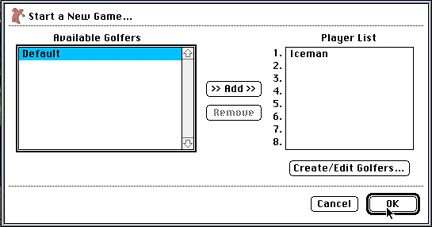 If you are HOSTING, select the NAME of your golfer and hit OK.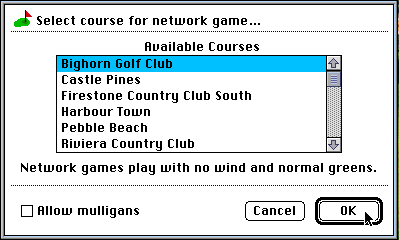 Select the COURSE on which you agreed to play on and click OK (NOTE: BOTH golfers MUST have the course in order to play it!)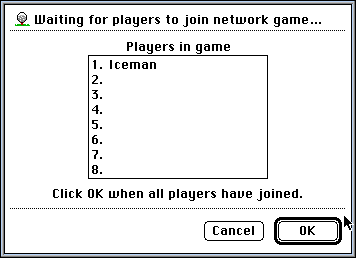 WAIT until you see the names of ALL the golfers...then click OK to start the game. At the END of the game, ALL players MUST take a screen shot of the final score cards (Use APPLE+SHIFT+3). Send the results to the Gamemaster for tournament postings.